Hawai Seaside Park, Lake Togo
Japan Sea and Lake Togo which surrounds a vast urban park with excellent sea and Lake and green scenery and hot springs. Also, Iris offers a variety of indoor & outdoor sports pool Sports Center is located. Iris in the early summer, I wonder if Ayame Sports Centre pond and comprehensive exercise. Widely used in various types of sports activities. Gymnasium boasts the arena area 1470 sq. m, gateball courts (total 14), ground golf court (total of 3 locations), multi-purpose (4 total), roller skating rink, canoe boatyard, archery, etc. Korea drama "Athena: goddess of war" of attention as a filming location.
POSTED on 2016/03/14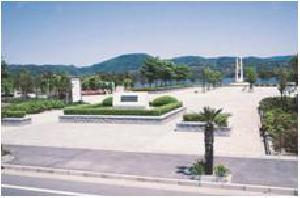 A great water front recreation area, it is surrounded by both the sea and Lake Togo. Though mainly used for its sports facilities, it is also perfect for fishing, and taking walks. Rare in Japan, we also have a roofed multi-purpose sports field. Also, there are a large variety of different flowers for botanists and laymen alike.
Details here ⇒ Hawai http://www.geocities.jp/hawaiayame/