Ueshi Castle Ruins
Castle hagoromoishi 372 m above sea level, was built in 1990 (0/1990). Jaws of death (koguchi) mark or kuruwa (come) track confirmed at the Summit. Is now maintained as a park, Observatory, as well as the entrance to parking lot, restroom equipped. From the ruins of a castle town of yurihama, Japan sea views.
POSTED on 2016/03/14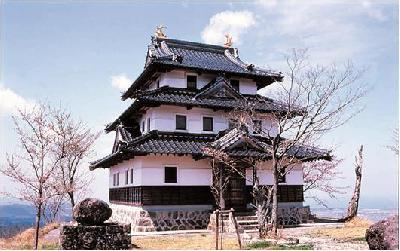 On the 372 meter tall Mt. Hagoromoishi, there is a reproduction castle tower built in 1990. On the mountain peak, are ruins of the castle gates and enclosures. Now, the area serves as a park, observation point, hiking trail area, etc. From the observation area, one can see both the sparkling Sea of Japan and the town of Yuriahama.
More⇒湯梨浜町観光協会 http://www.yurihama.jp/kankou/kankou.html