Ronin Dance
Matsuzaki District 3 had been inherited in the dance, is a folk art with 400 years of tradition and high quality. This dance is the dance of the Samurai, but the nembutsu dance honoring. Is currently performed at the Riverside Festival, preservation society and children dressed in black uniform, I dressed to dance in Ronin. Tottori Prefecture intangible folk cultural property is specified.
POSTED on 2016/03/14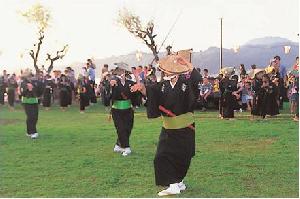 This folk dance has been continued in Matsuzaki for 400 years. This dance is to to honor samurai, though its roots come from a dance honoring Buddha. Currently, the dancers wear all black, and do their best to represent ronin (master-less samurai). It has been selected as one of the intangible folk assets of Tottori.
More⇒湯梨浜町観光協会 http://www.yurihama.jp/kankou/kankou.html